Wir hoffen, dass dir deine kostenlose Probe von Moss+ gefallen hat
Wir freuen uns sehr über die Zusammenarbeit mit Outfittery, um dir diese exklusive Gratisprobe unseres Moss+ Dufts anbieten zu können. Der kuschelige, raffinierte Duft ist ein Fan-Favorit. Wenn er auch dein Favorit ist, bekommst du 15% Rabatt mit dem Code OUTMB15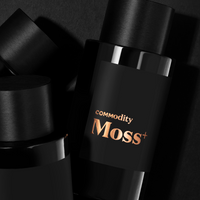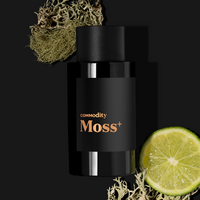 Über den Duft
Das grüne und zitrische Aroma von Bergamotte, Eichenmoos und Petitgrain wird durch die zusätzliche Frische von Wacholderbeere und die Tiefe von Bernstein verstärkt. Ein maskulines Tonic, das alle Sinne belebt.
Der perfekte frische, grüne Duft! Moss ist ein absoluter Traum und hat sich zu meinem Signaturduft entwickelt. Ich liebe die Noten und wie frisch der Duft ist. Er entfaltet sich wunderbar von den Zitrusfrüchten zu den tieferen, komplexeren Noten und hat eine unglaubliche Haltbarkeit. Als Naturliebhaber bin ich von diesem Duft absolut begeistert.
Ein Duft, mit dem man in einen Wald entführt wird... man atmet die Frische des Unterholzes wahrhaftig in vollen Zügen ein! Eine wahrlich außergewöhnliche olfaktorische Reise…
Ich benutze diesen Duft seit 2017 und bekomme immer wieder Komplimente für ihn! Er ist eine wunderbare Mischung aus Holz, Zitrusfrüchten und Moschus. Die Basisnote haftet noch Tage später an meiner Kleidung. Ich kann ihn sehr empfehlen, wenn du auf der Suche nach einem erfrischenden, coolen Duft bist.
We began with a collection of fragrances that many consider to be the perfect balance of longevity and strength: the Expressive Collection. However, fragrance strength – like most things – isn't one size fits all. Our community wanted lighter (Personal) and stronger (Bolder) renditions of the fan-favorites to suit their individual preferences and plans, so we created Scent Space. This best-selling introduction contains all three Scent Space Collections - Expressive, Personal, and Bold - for an ideal introduction to Commodity.
Commodity Nectar
Beautiful citrus bloom edt. Stays fresh in the dry down. Lasts a long time. Great freshie for the hot summer months. Got it at a bargain in the commodity sales. Thank you
We're glad you are enjoying Nectar! Did you have a favorite from the Exploration Kit?
Very nice pack and so wonterlful all frangances i love them
Great stylish kit
What a wonderful sample kit. I have purchased many sample kits in the past and none compare to this! Everything is beautifully packaged, great mist from the sample bottles and all laid out and explained in a way to get the most out of this kit. Unfortunately I didn't find my new fragrance but I still had a great experience figuring this out.
Best option for understanding scent descriptions
I was concerned about buying perfume online because I didn't know how to describe my favorite scents! "Woodsy" or "amber" didn't really make sense when reading perfume descriptions. Now I know where to start when buying full size! Caution though—2 oz may be smaller than you think.
Perfect way to try commodity!!
I thoroughly enjoyed the exploration kit, it really helped me find some new favorites that I would have otherwise never discovered!
Mehr darüber erfahren
Wir glauben, dass es nicht einen Duft gibt, der für alle passt.

Wir haben Scent Space entwickelt, um dir den Luxus zu geben, die Kontrolle über deinen Duft und seine Ausstrahlung zu haben. Jeder unserer elementaren Düfte ist in drei Scent Spaces erhältlich: die intime PERSONAL-Version, die ausgewogene EXPRESSIVE-Version und die verstärkte BOLD-Version.

Unsere modernen, amerikanischen Düfte, die wir seit 2013 neu interpretieren, sind weltweit online und in ausgewählten Sephora-Filialen erhältlich.