Wir hoffen, dass dir deine kostenlose Probe von Milk gefallen hat
Wir freuen uns sehr über die Zusammenarbeit mit Outfittery, um dir diese exklusive Gratisprobe unseres Milk Dufts anbieten zu können. Der kuschelige, raffinierte Duft ist ein Fan-Favorit. Wenn er auch dein Favorit ist, bekommst du 15% Rabatt mit dem Code OUTME15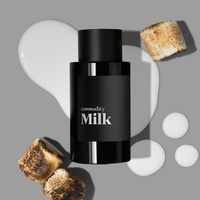 Über den Duft
Dieser cremige und beruhigende Duft ist der perfekte Start in den Tag, wenn man Trost im Vertrauten sucht. Cold Milk fügt dem ansonsten reichhaltigen und warmen Duft von Marshmallow, Mahagoni und Tonkabohne ein kühlendes Element hinzu.
Perfekt für kaltes Wetter

Schöner warmer Duft, der an kalten Tagen ein Gefühl von Gemütlichkeit und Wohlbefinden auslöst. 

Dieser Duft hält ewig lange (8 Stunden+) und ist eines meiner meist gelobten Parfüms.
Wahrscheinlich eines der besten Parfums, die ich je besessen und gerochen habe.
Total beruhigend und warm.
We began with a collection of fragrances that many consider to be the perfect balance of longevity and strength: the Expressive Collection. However, fragrance strength – like most things – isn't one size fits all. Our community wanted lighter (Personal) and stronger (Bolder) renditions of the fan-favorites to suit their individual preferences and plans, so we created Scent Space. This best-selling introduction contains all three Scent Space Collections - Expressive, Personal, and Bold - for an ideal introduction to Commodity.
Commodity Nectar
Beautiful citrus bloom edt. Stays fresh in the dry down. Lasts a long time. Great freshie for the hot summer months. Got it at a bargain in the commodity sales. Thank you
We're glad you are enjoying Nectar! Did you have a favorite from the Exploration Kit?
Very nice pack and so wonterlful all frangances i love them
Great stylish kit
What a wonderful sample kit. I have purchased many sample kits in the past and none compare to this! Everything is beautifully packaged, great mist from the sample bottles and all laid out and explained in a way to get the most out of this kit. Unfortunately I didn't find my new fragrance but I still had a great experience figuring this out.
Best option for understanding scent descriptions
I was concerned about buying perfume online because I didn't know how to describe my favorite scents! "Woodsy" or "amber" didn't really make sense when reading perfume descriptions. Now I know where to start when buying full size! Caution though—2 oz may be smaller than you think.
Perfect way to try commodity!!
I thoroughly enjoyed the exploration kit, it really helped me find some new favorites that I would have otherwise never discovered!
Mehr darüber erfahren
Wir glauben, dass es nicht einen Duft gibt, der für alle passt.

Wir haben Scent Space entwickelt, um dir den Luxus zu geben, die Kontrolle über deinen Duft und seine Ausstrahlung zu haben. Jeder unserer elementaren Düfte ist in drei Scent Spaces erhältlich: die intime PERSONAL-Version, die ausgewogene EXPRESSIVE-Version und die verstärkte BOLD-Version.

Unsere modernen, amerikanischen Düfte, die wir seit 2013 neu interpretieren, sind weltweit online und in ausgewählten Sephora-Filialen erhältlich.