Kate's Scents:
Milk- Personal

"Delicious and inviting. The thing that instantly drew me to this fragrance is that it's sexy while still being extremely wearable."

Velvet Expressive

"The perfect date night fragrance. I find the mix of Amber and Vanilla with jammy Rose to be so sensual."

Gold+ Bold

"One of my favourite notes in perfumery is a beautiful, rich and creamy Vanilla, and the way it's blended with warm spices in Gold+ is absolute perfection."
About Kate
"I'm a UK-based YouTuber with a huge passion for beauty, especially fragrance—it's an obsession. 
I love wearing fragrance because it makes me feel good. I wear it as the finishing touch to my outfit, or simply to enhance my mood."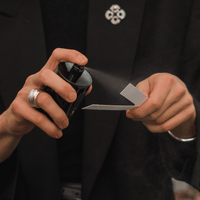 About Commodity
We believe fragrance isn't one-scent-fits-all.
We've created Scent Space to give you the luxury of control when it comes to your fragrance and its projection. Each of our elemental fragrances is available in three Scent Spaces: the close PERSONAL version, the balanced EXPRESSIVE version, and the amplified BOLD version.
Rethinking fragrance since 2013, our Modern, American fragrances are available online globally and in select Sephora Locations.